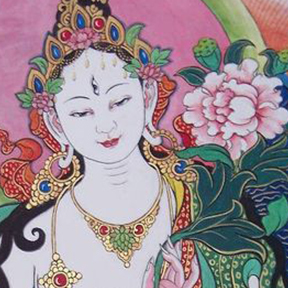 White Tara Series: A Soothing Compassion Practice for Difficult Times
with Dr. Ranjini George
WHITE TARA PRACTICE:
Fierce Compassion & Skillful Means

This one-day retreat introduces the short daily practice of White Tara, one of the most famous bodhisattvas of compassion in Tibetan Buddhism. The practice of Tara is for all of us — whatever stage of life. We will explore various ways of meditating with Tara in order to go beyond the many faces of fear that confront us in daily life.
Please register if you plan on attending. Programs are cancelled if we don't have enough participants. Paying online is helpful if possible, although we do accept cheques or cash at check-in.
Who can Attend?
Anyone can attend. Feel free to bring a friend.
Anyone who is seeking to go beyond personal fears and anxiety.
Especially welcome are those with beginners mind who are open to exploring meditation
What to Expect?
There will be periods of sitting meditation and short discussions and periods of contemplation and meditative writing practice. We will talk about how we understand and recognize our fears and how we work with them in daily life.
What to bring?
Please bring a notebook and pen. Cushions, chairs and light refreshments are provided.
Who is the Teacher?
Dr. Ranjini George MA, MFA, PhD
She is the author of Through My Mother's Window (Dubai, 2016). She holds a PhD and MA in English and an MFA in Creative Writing. She teaches courses such as Meditation & Writing and Pilgrimage to the Sacred Feminine at the School of Continuing Studies, University of Toronto, and received the 2019 Excellence in Teaching Award.