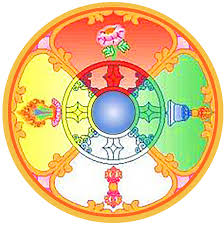 Maitri Five Wisdom Energies: Transforming Emotional Confusion
with John McQuade
Open to the public
Maitri Five Wisdom Energies:
Transforming Emotional Confusion
with special guest teacher John McQuade

Maitri Five Wisdoms was first developed by Chogyam Trungpa, Rinpoche
from traditional tantric Tibetan Buddhist teachings for directly
transforming emotional confusion into practical wisdom.
Each of us possess all five energies or five aspects of BuddhaNature.
Depending on how awake we are to our fundamental nature the energies
manifest as conflicting emotions or enlightened qualities containing
tremendous insight, vigor and heart.
Opening to these energies - whether confused or clarified - allows us to develop confidence and a tender heart or maitri. Then these energies radiate as our natural creativity and authentic presence.
The program will include teachings and a demonstration of the practice.